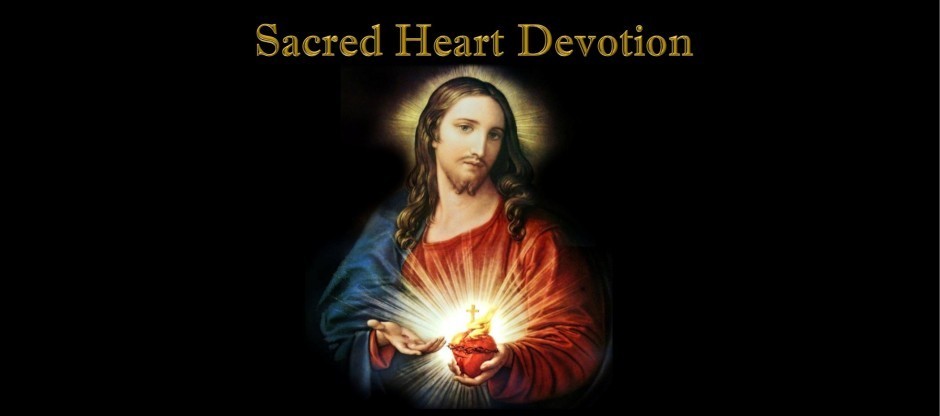 Sacred Heart Enthronement: What is it and why do it?
To "enthrone" simply means to display.  Enthronement of the image of the Sacred Heart is a way for us to invite Our Lord to be present in our homes as our constant companion.  By displaying the Sacred Heart image in a prominent place, and by dedicating our families to the Sacred Heart of Jesus, we profess that Christ is King of our hearts and that we desire Him to be present with us always.
The image itself, a blessed picture or statue, should recall the image that St. Margaret Mary Alacoque described seeing when Our Lord appeared to her: 
Around His Heart is a crown of thorns
There is a wound, from the soldier's spear, showing that our sins hurt Him in the Heart
The flames coming from His Heart show the intensity of His Love
Above the flames is a cross showing that His Love for us was so great that He died for us

 
History of the Sacred Heart Devotion
   In 1671, Sister Margaret Mary Alacoque had a vision of Jesus in which He said, "Behold the wound in my side, wherein you are to make your abode, now and forever." The Lord continued to appear to her in visions and on December 27, 1673, the feast of Saint John the Evangelist, as she knelt before the exposed Blessed Sacrament, she experienced a vision in which the Lord told her to take the place that St. John had occupied at the Last Supper, and that she would act as His instrument. Jesus revealed His Sacred Heart as a symbol of His love for mankind, saying, "My divine Heart is so inflamed with love for mankind ... that it can no longer contain within itself the flames of its burning charity and must spread them abroad by your means." She described that His Heart was on fire and surrounded by a crown of thorns. Our Lord told her that the flames represented His love for humanity, and the thorns represented man's sinfulness and ingratitude. Jesus informed her that her mission was to establish devotion to His Most Sacred Heart, and He revealed twelve promises that He would bestow upon all those who practice the devotion.
Biblical and Catechetical Support for Sacred Heart Devotion
I will give them a new heart and put a new spirit within them; I will remove the stony heart from their bodies, and replace it with a natural heart, so that they will live according to My statutes, and observe and carry out My ordinances; thus they shall be My people, and I will be their God.   -Ezekiel 11:19-20
 I will pour out on the house of David and on the inhabitants of Jerusalem a spirit of grace and petition; and they shall look on him whom they have [pierced].   -Zechariah 12:10
...but one soldier thrust his lance into his side, and immediately blood and water flowed out.  An eyewitness has testified, and his testimony is true; he knows that he is speaking the truth, so that you also may (come to) believe.  For this happened so that the scripture passage might be fulfilled: "Not a bone of it will be broken."  And again another passage says: "They will look upon him whom they have pierced."  
-John 19:34-37
The prayer of the Church venerates and honors the Heart of Jesus just as it invokes His most holy Name. It adores the Incarnate Word and His Heart which, out of love for men, He allowed to be pierced by our sins.   -Catechism, 2669       
Jesus knew and loved us each and all during his life, his agony and his Passion, and gave himself up for each one of us: "The Son of God. . . loved me and gave himself for me." He has loved us all with a human heart. For this reason, the Sacred Heart of Jesus, pierced by our sins and for our salvation,"is quite rightly considered the chief sign and symbol of that. . . love with which the divine Redeemer continually loves the eternal Father and all human beings" without exception.   -Catechism, 478
I want more info on Home Enthronement
Videos on Home Enthronement, How-to and Spirituality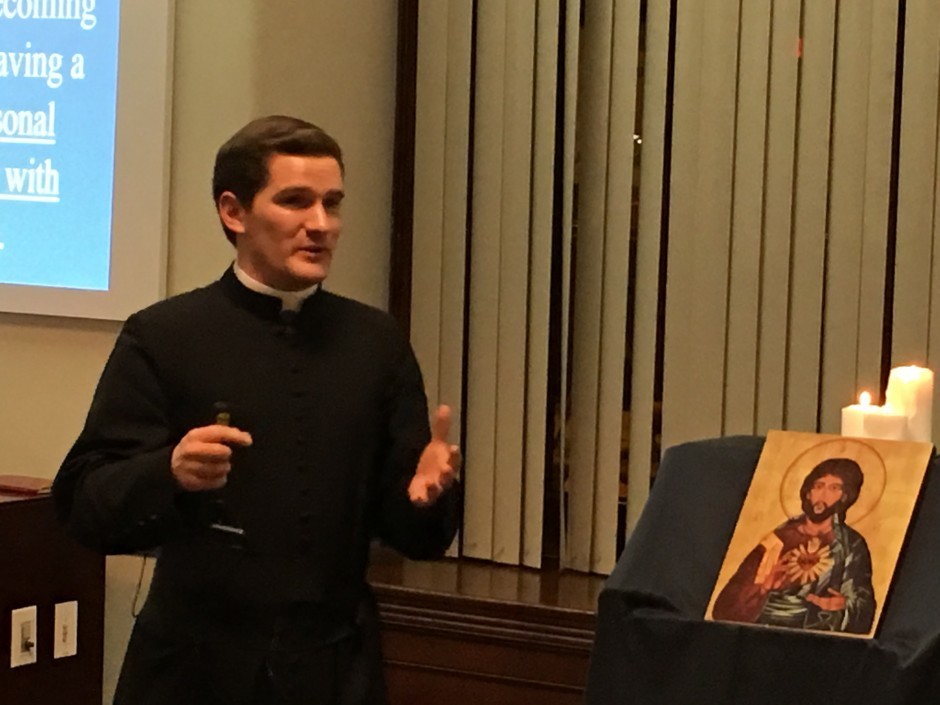 Why enthrone your parish, home, or school?
...more videos at the bottom of the page
12 Promises of Jesus for those who practice Sacred Heart Devotion
Resources for Devotion
To print Enthronement certificates:
visit Building a Kingdom of Love
For Enthronement books, materials,
Sacred Heart images:
Sacred Heart Books and Gifts  
(Liberty, MO: online store)
www.sacredheartbooksandgifts.com 
866-415-4301 or 816-415-4301
Blessings of St. Joseph, Inc: 816-676-2537
300 S. Belt Hwy, St. Joseph, MO
(corner of Belt and Charles St.)

Trinity House: 913-652-0080
6731 W 119th St, Overland Park, KS 

For religious images: 
The I. Donnelly Co, Inc: 816-363-2828
6601 Troost Avenue
 Kansas City, MO 64131
www.idonnelly.com
Recommended books:
A Heart on Fire: Rediscovering Devotion to the Sacred Heart of Jesus, by Rev. James Kubicki S. J.
The Devotion to the Sacred Heart of Jesus: How to Practice the Sacred Heart Devotion, by Rev. John Croiset, S.J
The Sacred Heart and the Priesthood, by Mother Louise Margaret Claret
Consoling the Heart of Jesus: A Do-It-Yourself Retreat- Inspired by the Spiritual Exercises of St. Ignatius, by Rev. Michael E. Gaitley, MIC (great follow-up book for adults to help them live the devotion)